Below is a list of digital content services including eBooks, eAudiobooks, Magazines, Movies/TV, Music, and Newspapers that Teaneck Public Library provides to library cardholders. All services can be accessed remotely with your library card number, and many allow you to download an app to smartphones, tablets, and smart TVs for easy viewing, downloading, and streaming.
Brainfuse
Help Now! Free live one-on-one online tutoring from a Brainfuse tutor. Tutoring is available in math, science, writing and other subjects for elementary, middle school, high school and college students. All BrainFuse tutors have at least a four year degree and are background checked. Includes live online help for Spanish Language help from Spanish speaking tutors, a writing lab that gives feedback on written assignments within 24 hours and much more. Requires a Teaneck Public Library card barcode number. This database is provided with funding from the Teaneck Public Library. Includes resources for GED, US citizenship test prep, resume writing, help with Microsoft Office, Excel, Powerpoint, and more. (Teaneck residents only)
Hoopla Digital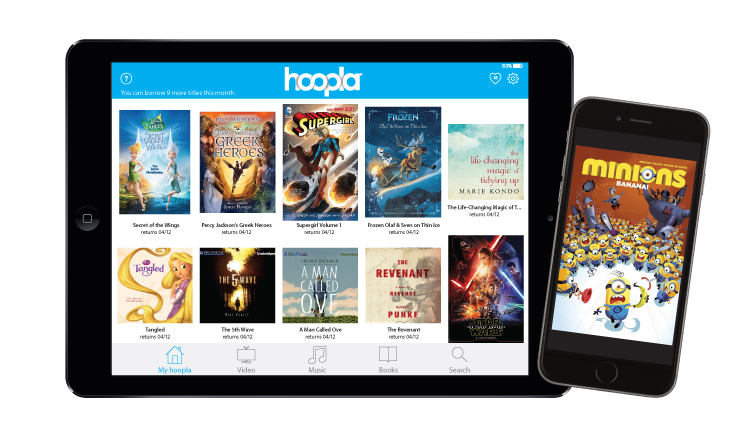 Access thousands of digital books, comics, audiobooks, music albums, and movies and TV shows all available for mobile and desktop use.
Digital content from Hollywood studios, major-label record companies, and publishers can be borrowed for instant streaming to smartphones, tablets, and computers, or for temporary downloading to smartphones and tablets. Note: Streaming requires continuous access to an Internet connection via wireless, Ethernet, or cellular data plan.
Visit hoopladigital.com to sign up for an account with your valid Teaneck Public Library card number, or visit the Google Play or App Store to download the free hoopla mobile app and sign up within the app. Hoopla is also now available to be installed on Roku, Apple TV, and Fire TV. Hoopla can also be integrated with Amazon Alexa.
You can check out a maximum of 10 items per month. Loan periods are:
21 days for eBooks, comics, and audiobooks
7 days for music albums, and
3 days for movies and TV shows
You will never incur any overdue fees, and items are automatically returned at the end of the lending period. Content is also instantly available for simultaneous use, which means you will never have to place a hold or wait for something to become available.
Access from an Internet browser:
Download the app:
If you need any assistance with accessing Hoopla, you can call us at 201-837-4171 or view a complete FAQ with troubleshooting tips at https://www.hoopladigital.com/help.
Kanopy
Kanopy provides access to a video streaming service which offers a broad selection of quality documentaries, feature films and training videos from producers including The Criterion Channel, The Great Courses, PBS, Music Box Films, Kino Lorber, First Run Features, BBC, and many more.
Films can be streamed via http://teaneck.kanopy.com or the Kanopy mobile app.
Library cardholders are entitled to ten checkouts per month and each checkout is active for a three day period.
No overdue fees; items are automatically returned to the library at the end of the lending period.
Libby, by Overdrive
Did you know that we have thousands of eBooks and eAudiobooks that you can download and read for free? Libby is a mobile app to browse, checkout, and read digital content from Overdrive.