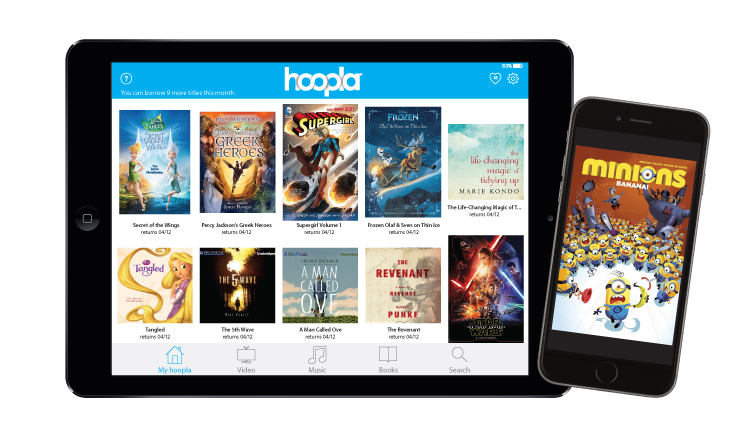 Access thousands of digital books, comics, audiobooks, music albums, and movies and TV shows all available for mobile and desktop use.
Digital content from Hollywood studios, major-label record companies, and publishers can be borrowed for instant streaming to smartphones, tablets, and computers, or for temporary downloading to smartphones and tablets. Note: Streaming requires continuous access to an Internet connection via wireless, Ethernet, or cellular data plan.
Visit hoopladigital.com to sign up for an account with your valid Teaneck Public Library card number, or visit the Google Play or App Store to download the free hoopla mobile app and sign up within the app. Hoopla is also now available to be installed on Roku, Apple TV, and Fire TV. Hoopla can also be integrated with Amazon Alexa.
You can check out a maximum of 4 items per month. Loan periods are:
21 days for eBooks, comics, and audiobooks
7 days for music albums, and
3 days for movies and TV shows
You will never incur any overdue fees, and items are automatically returned at the end of the lending period. Content is also instantly available for simultaneous use, which means you will never have to place a hold or wait for something to become available.
Access from an Internet browser:
Download the app:
If you need any assistance with accessing Hoopla, you can call us at 201-837-4171 or view a complete FAQ with troubleshooting tips at https://www.hoopladigital.com/help.