Activities
In addition to live, one-on-one remote tutoring, Brainfuse also offers self-paced learning modules including lessons, video instruciton, and tests for elementary, middle, and high school age levels on a wide variety of academic subjects. (Grades 3-12, including AP and GED) Tutorial for using Brainfuse
Reading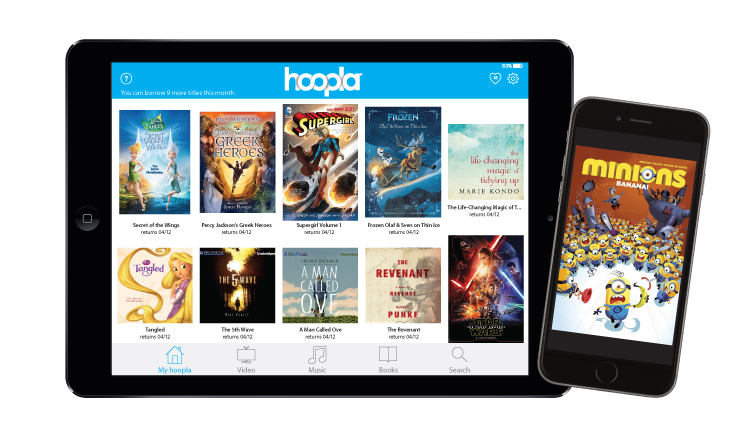 Access thousands of digital books, comics, audiobooks, and more, all available for mobile and desktop use. Digital content from publishers can be borrowed for instant reading or streaming to smartphones, tablets, and computers, or for temporary downloading to smartphones and tablets.
Visit hoopladigital.com to sign up for an account with your valid Teaneck Public Library card number, or visit the Google Play or App Store to download the free hoopla mobile app and sign up within the app. Hoopla is also now available to be installed on Roku, Apple TV, and Fire TV. Hoopla can also be integrated with Amazon Alexa. (All ages) Tutorial for using Hoopla
Did you know that we have thousands of eBooks and eAudiobooks that you can download and read for free? Libby is a mobile app to browse, checkout, and read digital content from Overdrive. (All ages) Tutorial for using Libby from Overdrive
Get started now by viewing eBooks and audiobooks by collection:
Research
EBSCO Explora (Primary Schools) is designed for students in grades K-5.  Students will find reliable information on a variety of topics with Explora, an easy-to-use interface that lets you search all of your library's EBSCO resources at once. (Grades K-5) Tutorial for using Explora
Primary Search provides full text for more than 70 popular magazines for elementary school research. All full text articles included in the database are assigned a reading level indicator (Lexiles), and full text information dates as far back as 1990. (Grades K-5)
Provides full text for more than 140 popular, middle school magazines. All full text articles included in the database are assigned a reading level indicator (Lexiles). Full text is also available for thousands of biographies and historical essays. Middle Search Plus also contains 84,774 biographies, 105,786 primary source documents, and a School Image Collection of photos, maps and flags. (Grades 5-8)
Containing resources that present multiple sides of an issue, this database provides rich content that can help students assess and develop persuasive arguments and essays, better understand controversial issues and develop analytical thinking skills. (Grades 5-12)
This multi-disciplinary database provides full text for more than 4,600 journals, including full text for nearly 3,900 peer-reviewed titles. PDF backfiles to 1975 or further are available for well over one hundred journals, and searchable cited references are provided for more than 1,000 titles. (Grades 9-12, college)
A full-text database that combines information from major respected reference works, books, literary journals as well as original content from EBSCO Publishing. Literary Reference Center contains full text for more than 35,000 plot summaries, synopses and work overviews, nearly 100,000 articles/essays of literary criticisms, more than 253,000 author biographies (including more than 22,000 in-depth bios), more than 460 literary journals, more than 693,000 book reviews, nearly 78,000 classic and contemporary poems, more than 19,600 classic and contemporary short stories, more than 6,500 author interviews, more than 8,200 classic texts and much more. (Grades 9-12, college) Tutorial for searching Literary Reference Center
Designed specifically for public libraries, this multidisciplinary database provides full text for more than 1,050 general reference publications with coverage dating as far back as 1984. Covering virtually every subject area of general interest, MasterFILE Elite also includes 52 full text reference books and an Image Collection of over 502,000 photos, maps and flags. (Grades 9-12, college)
Language Learning
Mango Languages offers over 70 world language courses expertly designed to adapt to a diverse range of learning needs, styles, and backgrounds. This award-winning program is also the highest rated language-learning app. (All Ages) Tutorial for Mango Languages
Tutoring

Help Now! Free live one-on-one online tutoring from a Brainfuse tutor. Tutoring is available in math, science, writing and other subjects for elementary, middle school, high school and college students. All BrainFuse tutors have at least a four year degree and are background checked. Includes live online help for Spanish Language help from Spanish speaking tutors, a writing lab that gives feedback on written assignments within 24 hours and much more. Requires a Teaneck Library card barcode number. This database is provided with funding from the Teaneck Public Library. Includes resources for GED, US citizenship test prep, resume writing, help with Microsoft Office, Excel, Powerpoint, and more. (Grades K-12, college) Tutorial for using Brainfuse
Videos
Kanopy provides access to a video streaming service which offers a broad selection of educational content including documentaries, and training videos from producers including The Criterion Channel, The Great Courses, PBS, Music Box Films, Kino Lorber, First Run Features, BBC, and many more. Tutorial for using Kanopy
Kanopy Kids provides access to educational and engaging videos for children of all ages, with a focus on social and emotional development, promoting respect for community diversity, and inspiring creativity. Browse what Kanopy Kids has to offer and discover educational TV shows from PBS Kids, animated stories from Scholastic, and more!
Kids & Teen Programs
Teaneck Public Library offers a range of programs for all ages (infant-teen) including storytimes, clubs, STEAM-learning, crafts, gaming, performances, teen volunteer opportunities, and more!
Questions?
Staff are available Monday through Thursday 9:00 AM to 9:00 PM, Friday and Saturday 9:00 AM to 5:00 PM and Sunday 1:00 PM to 5:00 PM. Any messages we receive outside of those hours will be responded to as soon as possible. Please do not hesitate to contact us by phone at 201-837-4171; or email Patron Services at teancirc@bccls.org, Reference Department at reference@teaneck.bccls.org, Youth Services at youth@teaneck.bccls.org and Teen Services at teens@teaneck.bccls.org.